THIS IS THE BEST WAY TO ORGANIZE YOUR MAKEUP ESSENTIALS!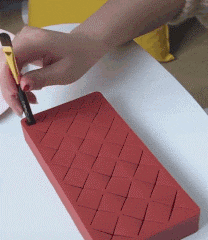 The SiliRack Makeup Organizer lets you organize your makeups and brushes neatly with stability. It keeps cosmetics in your bathroom, dressing table, countertop, and desk clean. The short base makes it easy to spot the colors, brands, and items you need to help avoid confusion on the dressing table and any designated makeup areas you use.
It is not only great for organizing and saving space but also looks amazing! Place this professional-looking matte silicone lipstick storage case on your bathroom or countertop, the elegant design makes your cosmetics look like in a luxury salon.
FEATURES:
💄Multifunctional - The SiliRack Makeup Organizer can hold most types of beauty essentials: lipstick, mascara, brushes, moisturizer, your jewelry, and more!
💄Exquisite Design - Available in 4 gorgeous colors that looks like a smooth, sweet piece of chocolate. They make great room decorations!
💄Environment-friendly - It is made of durable non-toxic silicone that will protect your lipsticks from scratches and keep them nice and neat, unlike the acrylic organizers that don't hold your makeup in place and are easily broken!
💄Easy To Clean - The SiliRack Makeup Organizer is designed to be detachable for cleaning - simply just wash with water.
💄Dimension - 7.5 x 3.6 x 1 inch / 18.9 x 9.2 x 2.5 cm
Our Guarantee
At Fashion With Fun, our mission is to keep you as a happy life long customer by investing in the making of each product and creating an item that will truly last you a lifetime. We understand that buying things online can be scary with companies not staying true to their claims so we will always go the extra mile to keep you satisfied.  
 If you purchase a product from us and are not 100% thrilled, shoot us a message at support@fashionwithfun.com and we will make it right by offering you a replacement or refund. A truly Simple & Risk-Free process!